OUR MILESTONES
2007
ARASCA was Built 
07.07.07 marked the beginning of ARASCA, as the sole distributor for the Philips FRx Automated External Defibrillator (AED). ARASCA has a small office with a small but dedicated team. 
---
2008
Product Growth
With hard work in building brand awareness, ARASCA was able to enlarge its product categories from AEDs to first aid supplies and emergency rescue and evacuation equipment. We had become official distributors of established brands coming from Europe:
St. Johns, TSG, Manger, and Less
---
2009
Oman and Qatar Brand Presence
Medhealth Exhibition, Oman
With a company aged as young as 2 years, we were invited to to take part at the MEdHealth  and Wellness Exhibition held at Muscat, in the Sultanate of  Oman, and was inaugurated by His Excellency Dr. Ahmed bin Mohammed bin Obaid Al Saidi, the then Undersecretary for Health Affairs at the Ministry of Health (MOH).
This was a moment for us as this was a baby step to create brand awareness for ARASCA, in the middle east.
2nd Civil Defense Exhibition and Conference 2009, Qatar
Entering the next territory of Qatar was through The 2nd Civil Defense Exhibition and Conference 2009, which was a bi-annual event that was known as the largest Security and Safety Exhibition in Qatar. We exhibited all our major products for the visitors to see.
---
2010
Participated the World's Largest Medical Expo
While we continued to grow among the middle east in terms of business, 2010 was the year where ARASCA showcased its market presence. We were no longer just the underdogs of the pre-hospital sector. We got one step closer to being known as the leader in this sector by participating in one of the world's largest medical expo, INTERSEC. 
---
2011
Abu Dhabi Medical Congress
ARASCA was proud to represent one of our key suppliers, Philips, at the Abu Dhabi Medical Congress. The exhibition attracted a wide scope of visitors and delegates from various backgrounds including nurses, paramedics, doctors, heath and safety officers, etc. The exhibition led to a wider network for ARASCA in the Middle East. 
---
2012
Strengthened our Relationship in Saudi Arabia
In 2012, we made our approach towards the next Middle eastern country, Saudi Arabia. Here, we not only promoted our products, but also provided aftersales services to all our customers using our products.
---
2013
ISO Certification
We were ISO Certified!!(2013) , and ever since we remain a company with excellence in quality of its products and customer service.
First Print Media Appearance
2013 saw ARASCA in its very first Print media! In the Dar Al Ber Al Itehad News. Dar Al Ber Society is a philanthropic and charitable organization based in Dubai, United Arab Emirates. ARASCA donated20 wheelchairs to the said organization.
---
2014
Office Expansion
We got Bigger! One of the most major milestones over years has been the expansion of our Office In Deira. We moved to a much larger space to accommodate our Existing Team, Also keeping in mind that our Team would further Expand. Hence, our team grew, our product range increased, and the 7th Anniversary was Celebrated in our brand-new office.
---
2015
First Magazine Advertisement
ARASCA's marketing became more aggressive and started targeting the printed media. A full page ad was published in Safety and Security Magazine October issue. 
---
2016
2,500 Philips AEDs Sold!
As the sole distributor of Philips AEDs in the Middle East region, ARASCA is proud to have been able to make Middle East a safer city for sudden cardiac arrest after selling a total number of 2,500 AEDs. 
---
2017
1,000 First Aid Kits All Over Dubai's Mosques
In March of 2017, ARASCA had the opportunity to land on an accomplishment that changed the face of health and safety in public sector. Together in conjuncture with the government entity, we installed over 1000 plus first aid kits in Mosques all across all Mosques in Dubai. This allowed us to maximize the support in the health and safety sector.
---
2018
Guinness Book of World Record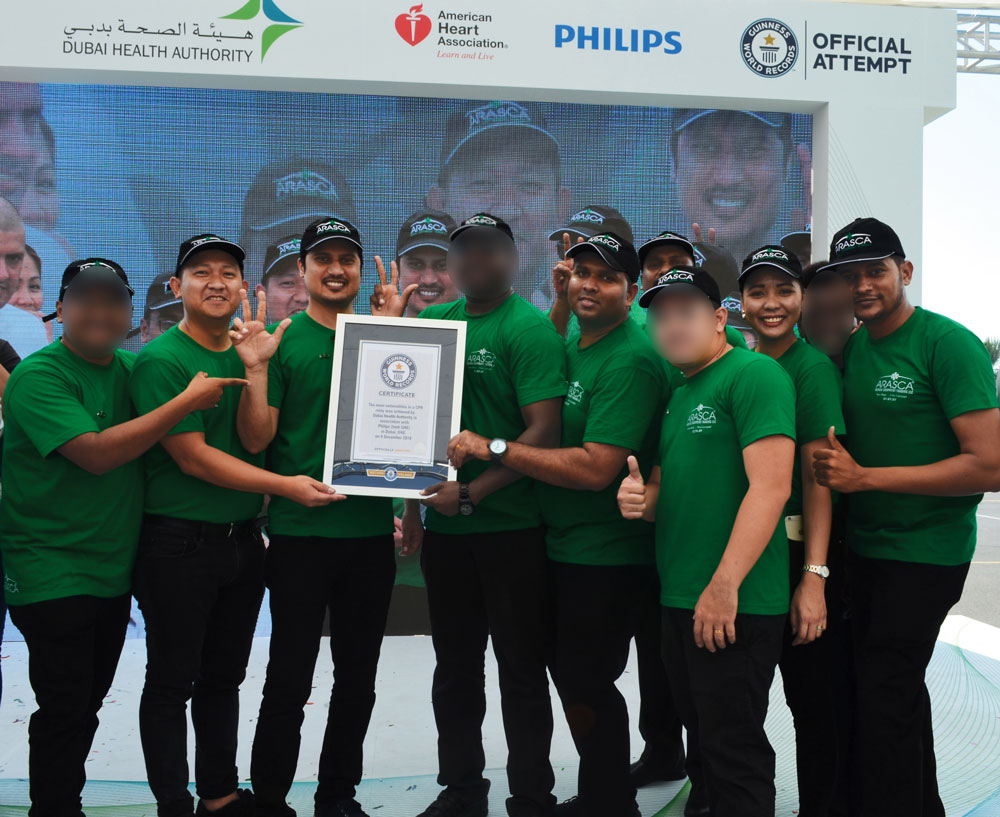 We had the remarkable experience of being the major sponsor, organizer and executor of the most magnificient event till date, during the course of ARASCA, in collaboration with DHA and Philips. The Dubai Health Authority (DHA) in partnership with Philips and exclusive partner ARASCA, set out to break the existing Guinness World Record for the most nationalities in a cardiopulmonary resuscitation (CPR) relay. As the sole distributor for the Philips AED in the region, ARASCA Team provided unconditional support in training over 400 people in performing the CPR to break this record, which was achieved seamlessly; Previously 74 nationalities, the new record broke through with a total of 104 nationalities in the relay. This was only possible because of the diversity in Dubai, home to undifferentiated people from around the world. In addition to the CPR training, we also ensured that each person was ready to save a life using the Philips HeartStart FRx Defibrillator, in case of a sudden cardiac arrest.
To appreciate the participants who performed the CPR and AED use correctly, ARASCA provided special training certificates to such personnel. We also provided free give away in the form of CPR face shields, key rings, which can be carried at all times, ensuring that the person is ready to provide rescue in an emergency.
In order to make this event successful, a dedicated team was assigned for planning and execution in order to make the event successful.
ARASCA on a Magazine Cover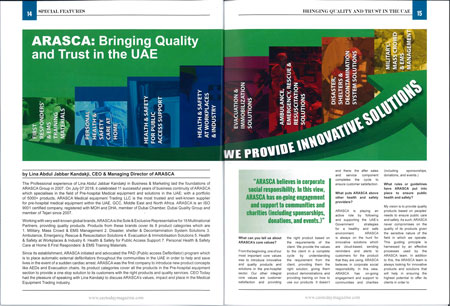 ARASCA Supports SERCO and Dubai Metro
A rather extraordinary event in the year 2918 was our meeting with Serco  Serco on the SmartLink AED solutions for the Philips FRx AEDs. During the discussion we highlighted that Dubai metro by RTA is the only government department who has this technology in line with the government policy of Dubai Heart safe city and smart Dubai by using latest technology in the health and safety sector. Considering that this is a big achievement for both Serco and RTA, a suggestion to materialize the fact in both print and electronic media to let the people know about the steps which SERCO and Dubai metro is taking towards the safety of people.
On 23rd September 2018 SERCO approached us stating that RTA wants to create a video to create awareness of Philips AED devices at its metro stations and they need ARASCA to be present there and provide them with the necessary support. ARASCA Team was there to provide the necessary support. After this activity, RTA issued a press release on 27th September 2018 focused on the Philips AEDs and the SmartLink AED monitoring solution.
https://www.rta.ae/wps/portal/rta/ae/home/news-and-media/all-news/ NewsDetails/providing-instant-emergency-aid-to-cardiac-arrests-cases-at-metro-stations
---
2019
The eShop Online Store
The year of 2019 marked its beginning with the digitization for ARASCA. We therefore took the initiative of rebranding our name as Smart ARASCA for the year 2019. We also made the grand launch of our online store this year, opening the gates to thousands of customers for easy e-commerce and quick purchases at the tip of their fingers. The grand Launch was conducted during the Intersec 2019, where the event was highlighted by the presence of prestigious personnel a such as Captain Mohamed Rashid from Sharjah Police and Mr. Mustafa from community Development Authority Ajman. We also had VIP clients visit us and be a part of the launch. During the event, we showcased the website along with a quick demo on a 3×3 LED screen at the stand. All visitors were greeted with special giveaways and custom made chocolates to celebrate the occasion.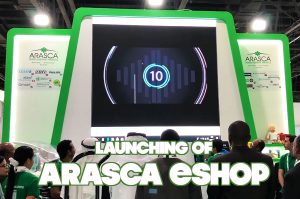 The eShop today, is completely active and functional with a quick delivery time of 2 working days, and ever since, eShop has been one of our greatest milestones.
ARASCA Studio Opening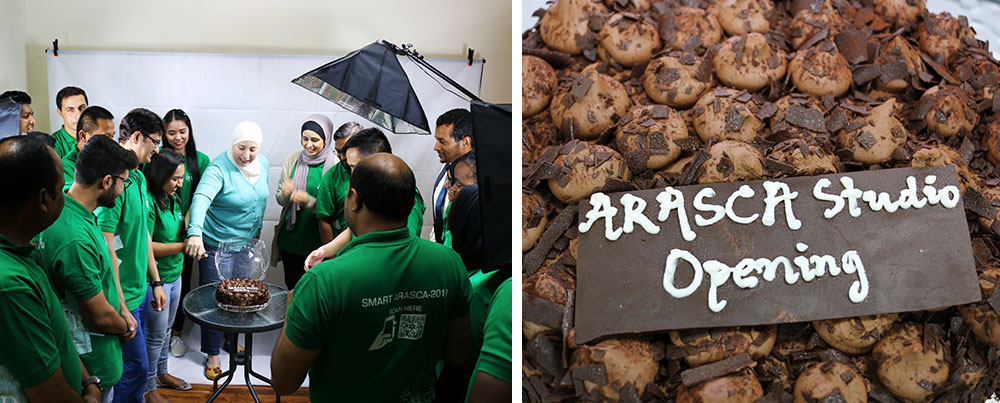 This year also saw the grand opening for very own In-House Studio! The aim is to maximize our own content and material for all of our media, be it videos for demonstrations and training, or just simple pictures for showcases and catalogues.
---
2020
The eShop Mobile App
With the digitalization transformation as our focus, ARASCA continued to extend its reach through mobile shopping with the eShop mobile application. The eShop mobile app is the first prehospital medical equipment app in the MENA region. The year 2020 was the perfect timing to launch the app because of the pandemic which made physical shopping more limited hence, digital shopping more powerful. 
---
2021
The year of 2021 is yet another chapter that we await to surpass with more learnings and successes. On our 14th year celebration, we wish nothing more than sending our deepest gratitude to all our partners and clients who have been the reason why we strive.
Today, ARASCA has 23 amazing partners who provide us over 6,000+ leading and highly competitive products. We have a beautiful team who always give their best and we have 5,500+ customers who have always been so supportive and understanding. Being here, strong and blessed, is a true success for us.
LEARNINGS FROM OUR TEAM LEADERS
The growth of a company is also the growth of its people. Here's what our pioneers has to share coming from their years of experience and leadership.
Binoy Anthony
Accounts & Deputy General Manager
During my early days in ARASCA, little did I know that ARASCA would be my Life Partner and that I will be serving for more than a decade. I was able to learn many things. First, that when we have such abundant inspirations, there is nothing impossible with our continued effort. Second, when serving our most valuable assets – our customers , we need to focus on our ultimate goals and gain trust and victory will follow. Third, when leading people, try to understand others, communicate well, make use of the best and when one succeeds, be the first to applaud them.
Fourth and one of the most important thing that took me in my position, dig into each topic, learn thoroughly as much and seeking the best possible solutions. Furthermore, extend our abilities wherever it can be useful for all.
Lastly, always be happy with the blessings.
Asaph Rahul Ranganadhan
Sales Manager
There are quite few things that I have truly been putting into practice throughout my time in ARASCA. As a salesperson, that is to understand the customer's background and his needs.  Advise based on what best fits his requirement.  Customer may opt for what you introduced so, be an advisor and/or consultant. As a leader – we all say, "lead by example" – I would say, guide with examples as steering the team towards a common goal is of utmost importance. A good leader gives the necessary freedom to the team in taking their own decisions.  This helps them to start analysing and gain confidence when facing difficult situations both at work as well as in their personal life.
I am where I am now because I do my job not as an employee but a leader who thinks out of the box and provides solutions. And I do it all without thinking about recognition.
You will be successful in what you do if you trust yourself, understand your strengths and weaknesses, work truthfully, and be humble.
Marycon Patos
HR Manger 
My job in ARASCA was the first job I got two weeks after arriving in UAE in the year 2012.  Had I known that this job was going to be the most incredible one as it is the most exciting and challenging one in my career, I could have gone to UAE earlier than expected. I was given a chance to learn not only to meet a diverse group of people from different cultures, but I also learned how to interact and work with them too. Ms Lina had guided me and taught me how a woman in an Arab country should work and interact accordingly and I may say , half of what I am now is because of her.
It was quite a challenge for me as I learned the administrative work in UAE , the first and only country abroad I had gone for employment. Ms. Lina had given me the liberty to learn it my own way , sometimes in a fast almost impossible way,  but that was her way of teaching me how to handle stressful situations . I have learned so much also from my teammates who have been in UAE longer than I had been and was very grateful for this. My colleagues were very helpful in helping me cope with the new work environment . After almost 9 years of working in UAE , I may say it is quite an accomplishment that am still here abroad and working in the same company I was given an opportunity to work with .
During my years in ARASCA, I learned that you have to take all things as NEW. Live each work day as if it is your first day at work!  This will keep the passion on your work burn brighter each day.  Be grateful for each day's experiences and even for the failures as these will make you stronger and wiser.
Also heading the HR department, you have to lead by example which I believe starts from family life really. I grew up seeing how my elders act and behave with each other and when I started to work I understood that the best way to teach other people is to become role models for them. I lead by showing others what to do and how to do it. Most importantly, you need to nurture your people; you have to keep in mind that each employee is unique in his own way. Each one has his strengths and weaknesses and as a department head, you must know how to bring out the potential abilities even from the most mediocre member of the team. You have to listen and see how they work . Communication is very important especially during the pandemic. You have to let them know that you are always available to listen. Maintain employee engagement .  Always be thankful for the smallest accomplishment like when a report was submitted on time or a task was accomplished quickly and correctly and even be more grateful for hard work done. Give them opportunities to share their ideas and suggestions. This will help them build confidence in making decisions in the future and thus slowly empowering them. Make them feel that what they do on a daily basis matters a lot for achieving the goals of the company. 
Patience, perseverance and perspiration make an unbeatable combination for success! I would not be here as I mentioned if it wasn't for these three traits and if I was not guided and given words of wisdom by Ms Lina.  I also believed  that keeping my faith ( with my religious beliefs)  intact  amidst the challenges in life and work  had also kept me going forward with my job.
Good timber does not grow with ease. The stronger the wind, the stronger the trees.  – this was written in my signature for quite some time…
Qasim Habib
IT & Marketing Manager
In my life, I took some difficult decision and one of them was to move to UAE from my home country but this most difficult decision was worth it and I found myself lucky when I joined ARASCA as my first employer in UAE. It's been seven amazing years and counting.
Throughout those seven years, what really taught me most is working in a multinational environment and working under the leadership who cares for its team and supports in anyway possible to enhance both their personal and professional life. This same practice is what I apply with my team. If you are a leader, you have to lead by example. You need to show and not just tell. Always respect your teammates and treat everyone with courtesy, but at the same time set the boundaries and stick to them. Clear boundaries means there is no confusion.
Being where I am now is because of all my learnings and because I kept doing what I love, kept my mind open to new ideas and posibilities. Never stop improving. constantly learn and always try to improve yourself.
Mimia Pablo
Office Manager
One of the important lessons I've learn throughout my years in ARASCA is how valuable the connections with other people are. Whether it is with a professional colleague, friend or family member, each relationship I build with other person adds another beam of support to what I am building for myself. I have also learned that asking questions and listening to people's opinions and stories is very important so I can use my own strengths to help them with their projects and problems and do not be afraid to open to your work network.
Having been able to experience logistics, sales, and now the admin department, I have been around with different kind of work pressure and bond with most of the team members, I learned that the most effective leaders are coaches – people who can guide others to arrive at their own solution, put them into action, and set goals. You should be able to give time to listen and be humble because your job is to get the best out of your team.
My best advice to the readers when it comes to nurturing employees/healthy work culture are to practice honest communication, make your team feel valued, and maintain an open-door policy or the freedom to open up to discuss their thoughts. These three can truly bring the best out of your team's happiness hence, will create a productive and healthy workplace.
Where I am now is because I want to have more knowledge and improve myself and I want to learn more.
"We may encounter many defeats, but we must not be defeated."
Mohamed Balla
ARASCA Brand Ambassador
When I started in ARASCA, I wish I could have known how important professionalism is. It is a crucial part of customer care. How you treat and serve your customers will be the foundation of your company's reputation. Deeper trust is built when you educate them well with your in-depth product knowledge that should go hand-in-hand with always being 'there' – being available to best you can to guide them and attend to their needs. Also, you should always embody your company's mission and vision. It should be your first step to a good customer service.
As a brand ambassador of ARASCA I learned not only to put our company's reputation on top of my priority but also to be a leader – not a boss. A good leader inspires his team and hone them to become a leader of their own. Treat your team all equal. Talk to them as a colleague. Always treat your success as a fruit of your teamwork. 
For 8 years I have believed that "Sales is not about selling anymore, but about building trust and educating", and it worked for me, for my team, and for my company.