The 2019 Coronavirus led many jobless and hungry. Most businesses opted to implement a non-paid forced leave to its employees as well as a salary cut to survive the current crisis.  
Given the extended quarantine period among most countries, an increase in the shortage of supplies and sources of finance comes with it. Therefore, we need to be wiser on what to put in our cart and what to put in our wish list.  
Here 
is
 our best advice on what you should 
prioriti
z
e
 buying
 to make the most of your budget:
#1 | Liquid
Drinking plenty of water is essential to combat the flu. Therefore, saving gallons of water during quarantine is best.
Top 
4
 in this category
                                                       1. Water (low sodium) 
                                                       2. Fruit / Vegetable Juices 
                                                       3. Tea / Hot beverage that is good for the immune system 
#2 | Healthy
 Stomach-Filling Food
A high fiber and high protein food will keep your belly fuller and will let you eat lesser the next meal; thus, it helps you lessen hunger and save you more money. 
Top 
7
 in this category
                                                                  1. Potatoes  
                                                                  2. Eggs 
                                                                  3. Oatmeal   
                                                                  4. Fish & Meat   
                                                                  5. Greek Yogurt  
                                                                  6. Chickpea  
                                                                  7. Wholewheat/Wholegrain Pasta & Bread 
#3 | Fruits and Vegetables
These products may be perishable, but they give you energy and strengthens your immune system – which we need most nowadays. Add an adequate amount of longer-lasting fruits and veggies to your cart to make sure you don't waste them. Also, choose vegetables and fruits that are colorful because the more colorful, the healthier they are.  

Top 5 
Vegetables
                                                                   1. Frozen / Canned Peas (incl. other veggies) 
                                                                   2. Carrot 
                                                                   3. Sweet Potato & Yam 
                                                                   4. Cauliflower & Broccoli  
                                                                   5. Cabbage 
Top 
4
 Fruits
                                                                                   1. Citrus Fruits 
                                                                                   2. Apples 
                                                                                   3. Bananas (not too ripe) 
                                                                                   4. Bell Pepper 
#4 | Canned or
 Jarred 
Goods
When buying preserved goods, make sure you know which brands have healthier contents in them because not all canned and jarred goods are equal. Here are things you must avoid when buying canned and jarred goods. 
Over 3g Saturated Fat Per Serving
A high intake of saturated fat may increase your risk of heart disease. 
Over 300mg Sodium Per Serving
High intake of sodium-rich foods contributes to high blood pressure and bloating. 
Canned Meat
Buy canned fish or chicken breast instead of other processed meat because this variant is more likely to have high saturated fat and sodium.  
Added Sugar
Keep away from anything that has added sugar. Canned fruits with syrup mostly have a high level of sugar content and are definitely not good for you so buying fresh options is best.  
#5 | Medicine
Vitamin C / B6 / E has rich health-boosting content is best for the immune system and of course, don't forget the medicine prescribed by your doctor. 

#6 | Body Care
Choose just the essential and most budget-friendly products to help you save money for other important goods.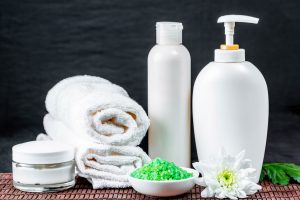 Top 5 in this 
category
                                                                       1. Shampoo with conditioner (2-in-1) 
                                                                       2. Feminine Wash 
                                                                       3. Body soap 
                                                                       4. Face wash 
                                                                       5. Tissue paper 
#7 | Cleaning Materials
Same as the body products, make sure you get cleaning materials that are mostly needed.  
                                                     1. 2-in-1 Detergent with Fabric conditioner / Just Detergent 
                                                     2. Disinfectant spray  
                                                     3. Bleach  
                                                     4. Alcohol  
#7 | Protective Wear
Last but certainly not the least, gloves and face mask. Yes, you need to strictly stay at home, but make sure you are prepared to have your protective wear just in case you get sick at home and you need to keep your family safe. Also, you might go outside for an emergency purpose, securing your safety is a must but always remember to buy only what is enough.  
Since pharmacies lack stocks of recommended face mask, you may opt for other available masks and make sure you buy from your local pharmacies and not from people you meet online because these items may be unqualified for health quality standards.  
Source: 
https://www.goodhousekeeping.com/health/diet-nutrition/g5147/healthy-canned-foods/?slide=35 
https://www.healthline.com/nutrition/12-healthy-high-carb-foods#section12 
https://www.healthline.com/nutrition/15-incredibly-filling-foods#section8 
https://health.clevelandclinic.org/3-vitamins-best-boosting-immunity/ 
https://www.nbcnews.com/better/lifestyle/staying-home-due-coronavirus-here-s-what-stock-your-fridge-ncna1155791 
Image Source: Freepik.com