ARASCA:

Bringing Quality
and Trust in the UAE
by Lina Abdul Jabbar Kandakji, CEO & Managing Director of ARASCA
The Professional experience of Lina Abdul Jabbar Kandakji in Business & Marketing laid the foundations of ARASCA Group in 2007. On July 07 2018, it celebrated 11 successful years of business continuity of ARASCA which specializes in the field of Pre-hospital Medical equipment and solutions in the UAE; with a portfolio of 5000+ products, ARASCA Medical equipment Trading LLC is the most trusted and well-known supplier for pre-hospital medical equipment within the UAE, GCC, Middle East, and North Africa. ARASCA is an ISO 9001 certified company, registered with MOH and DHA, member of Dubai Chamber, Dubai Quality Group and member of Tejari since 2007.

Working with very well-known global brands, ARASCA is the Sole & Exclusive Representative for 16 Multinational Partners, providing quality products. Products from these brands cover its 8 product categories which are 1. Military, Mass Crowd & EMS Management 2. Disaster, shelter & Decontamination System Solutions 3. Ambulance, Emergency, Rescue & Resuscitation Solutions 4. Evacuation & Immobilisation Solutions 5. Health & Safety at Workplaces & Industry 6. Health & Safety for Public Access Support 7. Personal Health & Safety Care at Home 8.First Responders' & EMS Training Materials.

Since its establishment, ARASCA initiated and advocated the PAD (Public access Defibrillator) program which is to place automatic external defibrillators throughout the communities in the UAE in order to help and save lives in the event of a sudden cardiac arrest. ARASCA was the first company to introduce new product concepts like AEDs and Evacuation chairs. Its product categories cover all the products in the Pre-hospital equipment section to provide a one-stop solution to its customers with the right products and quality services. CEO Today had the pleasure of speaking with Lina Kandakji to discuss ARASCA's values, impact, and place in the Medical Equipment Trading industry.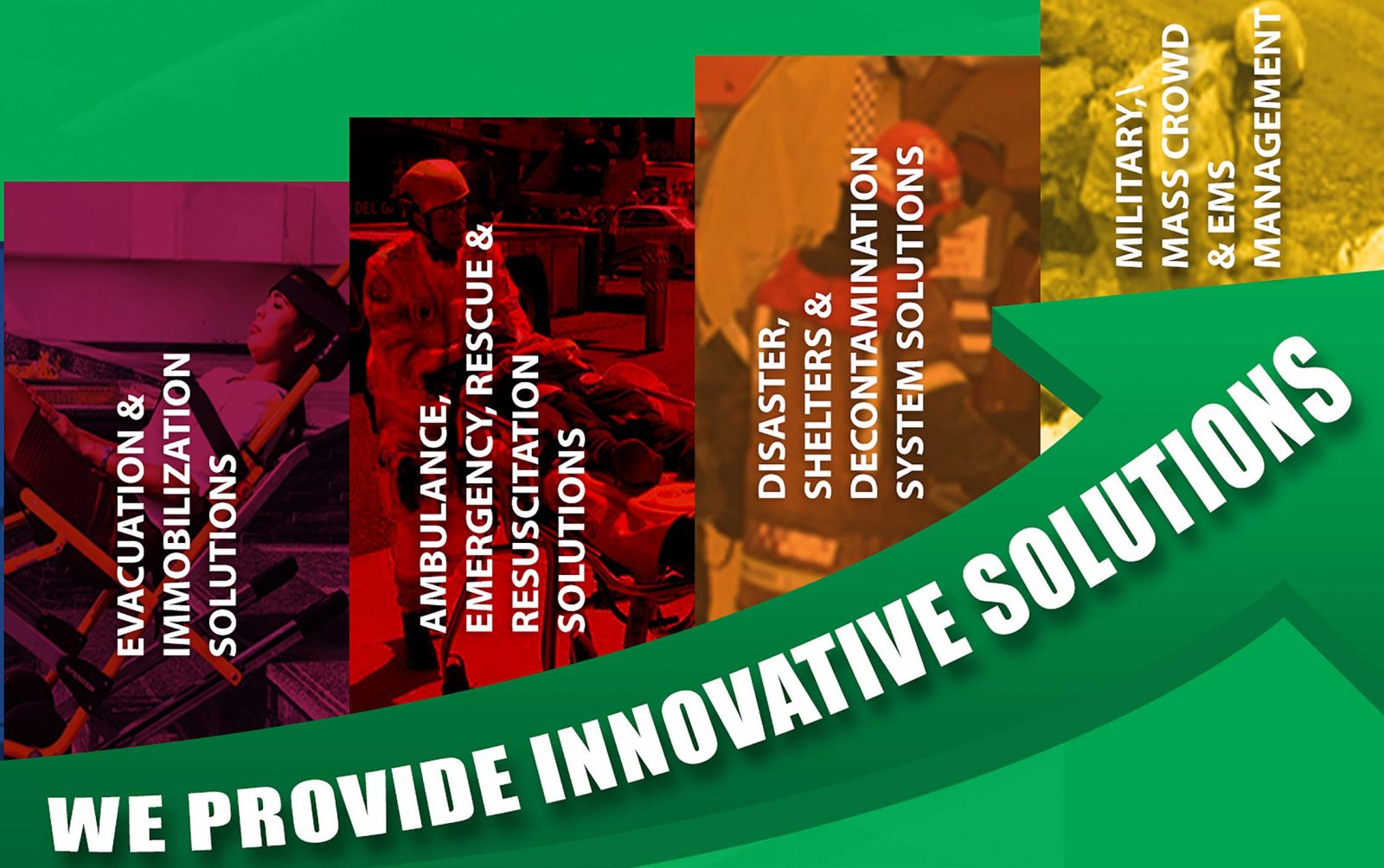 "ARASCA believes in corporate
social responsibility. In this view,
ARASCA has on-going engagement
and support to communities and
charities (including sponsorships,
donations, and events.)"
How has your previous experience played a part in your current position?
My previous experience gave me knowledge about the GCC market and identifying the customers' needs and knowing the customer more. It also gave me knowledge about how to handle business in a demanding market. The most important thing was working with multinational teams: I got to know how to manage the team having different nationalities and different mindsets, how to train the sales team, how to introduce products to the market, effective marketing techniques and how to be a team player in a diverse work environment.
What can you tell us about ARASCA's core values?
From the beginning, one of our most important core values was to introduce innovative and quality products and solutions in the pre-hospital sector. Our other integral core values are customer satisfaction and providing the right product based on the requirements of the client. We provide the values to the client in a complete cycle by understanding the requirement from the client, providing them the right solution, giving them product demonstrations and providing training on how to use our products. It doesn't end there: the after sales and service component completes the cycle to ensure customer satisfaction.
What puts ARASCA above other health and safety providers?
ARASCA is playing an active role by following and supporting the UAE's Government strategies for a healthy and safe environment. ARASCA is always on the hunt for innovative solutions which are cloud-based, sending reminders and alerts to customers for the product that they are using. ARASCA believes in corporate social responsibility. In this view, ARASCA has on-going engagement and support to communities and charities (including sponsorships, donations, and events.).
As CEO/ Managing Director, what changes have you implemented to help both clients and fellow employees?
I have implemented lots of crazy ideas that others may not have, for example, I have made a company-wide annual leave where we close the company completely for one month during the holy month of Ramadan. I have also made Thursdays an office day, meaning that no one is allowed to leave the office for any reason, during which days we conduct training on different topics. These topics cover new products, business, marketing, sales,
customers, communications, IT, technology, personality, and many others for all employees on the Weekly Sharing Knowledge meetings which helps ARASCA employees to grow professionally. Apart from that, our employees regularly attend outdoor training and seminars. These are not limited to local training, and involve foreign trips by our employees to different global meetings and exhibitions by which they gain more expertise and ideas to bring into use for ARASCA. I do personal follow-ups with the employees on their performance. Not only that, customer complaints or feedback are directly sent to me to evaluate and act upon in a more personalized
way to ensure and maximize client satisfaction.
What rules or guidelines have ARASCA put into place to ensure public health and safety?
My vision is to provide quality products based on peoples' needs to ensure public care and safety. As such, ARASCA never compromises on the quality of its products given the sensitive nature of the field in which we operate. This guiding principle is harnessed by the effective processes used by the ARASCA team. In addition to this, the ARASCA team is always looking for innovative products and solutions that will help in ensuring the highest potential to offer its clients in order to maximize public health and safety. Our focus is not only on quality and customer satisfaction: we are always keeping ourselves up to date with the international health and safety standards and we are working very hard to implement these standards by working with the responsible Government bodies. For example, ARASCA worked with the Dubai tourism department to make it mandatory by law for all hotels to keep AEDs and First Aid kits at their premises so they can assist their visitors quickly and can save their live in any sudden event.
What impact would you say you have made on the overall growth of the company?
In the beginning, ARASCA started its operations within the UAE region, and only now has it expanded its reach to customers globally. One of the major reasons for this is that I give top priority to customer satisfaction and
we do not compromise on the quality vs the price. We have provided what the customers need and not what we want to sell. We reduce the response time to customers where quick and effective decisions are made. I transformed ARASCA into a place where employees like to be hired and to work here. Everyone in the company is given fair opportunities and grows with us, thereby adding more value to the company.  For the customers, ARASCA is one stop solution for all their pre-hospital medical equipment needs. We deliver our promises. We make a trustworthy and honest relationship with our clients.
How does ARASCA maintain the quality of its products and how does it enforce its standards?
ARASCA is an ISO 9001-2008 certified organization and a corporate member of the Dubai Quality Group. From day one, ARASCA has never compromised on quality. We decided not to compromise on this because of the prices. In spite of challenges in the market due to prices, we were not constrained to bring quality products. To maintain the products' quality, we have medical engineers who are checking our products and offering free aftersales services to satisfy customers. Our selection of suppliers and partners is based on extensive research by top management along with the quality control department. Quality control includes checking the background, certifications and other documents provided by the suppliers for the respective products. After a thorough and rigorous process, selected partners are added to our dealership profile. Since we are dealing only with manufacturers directly, we provide the feedback from our customers regarding the products to bring enhancements and improvements in a cost effective way to enhance user experience and improve the quality of the products involved. This explains why we are the leaders in the Prehospital Sector.(including sponsorships, donations, and events.).