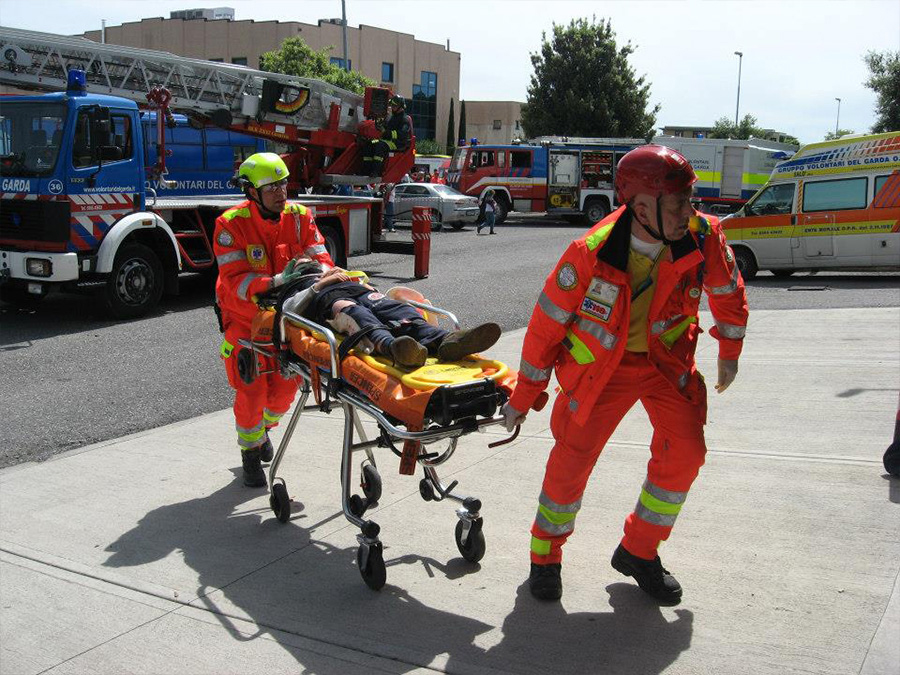 The emergency stretcher is a medical equipment that is used to immobilize and safely carry an injured individual or patient to the ambulance – it could be a helicopter, plane, boat, or land vehicle – or to the location of the medical treatment facility.  
Stretchers are used in different emergency situations, such as search and rescue, ambulance, and more. It is a crucial part of saving lives because it ensures that the patient is quickly and safely transported to the hospital or medical facility by helping to reduce injury exacerbation, thus increasing the chance of survival. 
To maximize the effectivity of emergency stretchers, they are designed in diverse ways to ensure that it adapts to different emergency scenarios and settings (e.g., fire emergencies, a collapsing building, water rescue, etc.) so time is not compromised.  
Most often, patients can be transferred from one stretcher to another because there are certain cases where stretcher A is best used to travel the patient in tight corridors or spaces while stretcher B is more effective in a large space or in the situation after the patient was moved outside that tight space. The use of different stretchers in a single emergency scenario is important to reduce the time consumed to transport the patient. 
The main types of emergency stretchers: 
Wheeled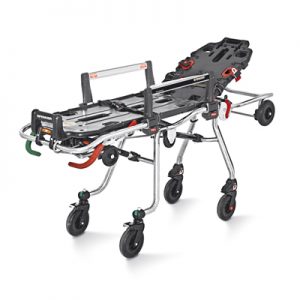 Wheeled stretchers are normally used in transporting a patient over a pavement from one point to another – usually to the ambulance or from ambulance to the hospital. This allows the responders to move the patient faster than manually carrying a patient. Some of these stretchers have large wheels to cope with rough terrain.  
Normally, wheeled stretchers are used to carry portable stretchers or spine boards to help increase the speed of transportation, and ease of movement when loading the patient to the ambulance or transportation vehicle. This is because while the patient is lying on it, the stretcher can be loaded to the ambulance either manually by folding the wheeled leg of the stretcher and lifting it, or automatically by the specialized self-loading system used by SPENCER ambulance stretchers.  
Portable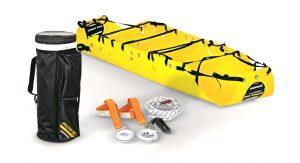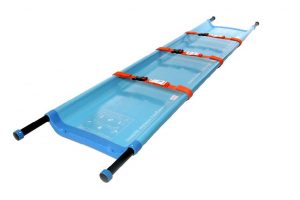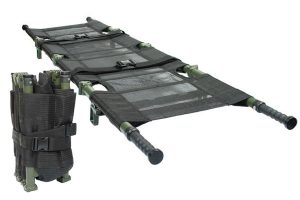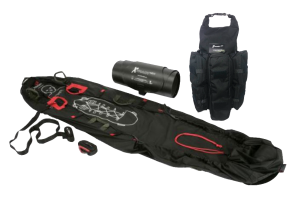 The characteristics of most portable stretchers are foldable and flexible. These characteristics are extremely helpful in cases where the patient is located in a confined space or in any environment or situation which will prevent the rescuers from moving the patient quickly using a large or heavy stretcher.  
 Apart from foldable metal stretchers, some are also made of fabric, special plastic material that can be rolled or adjusted in size so they can be easily be carried or inserted in a bag/carrying case. 
Stair Chair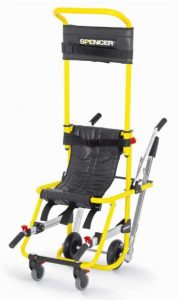 Stair chairs or staircase stretchers can glide over the staircase safely without requiring any effort from the rescuer. It is a solution that permits maximum maneuverability in confined spaces and on staircases making staircase transport and building exit a simple operation.  
These stretchers, such as the ProSkid, have a sliding system that allows the operator to control descent of the staircases without having to support any weight. This makes the Stair chair an essential emergency equipment not only for the rescuers but also for normal people in the building to easily evacuate an immobile individual.  
Basket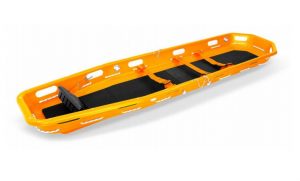 These stretchers are used to confront some of the most difficult emergency situations. With its shape and tough material, basket stretchers are considered as one of the most versatile for rescue operations in mines, at altitude, and in water since most of them are made from thick plastic material and are having tough handles and hook loops to be harnessed through air. 
Some basket stretchers, like the wheeled stretchers, can also hold a spine board or other type of stretchers so lifting the patient from one stretcher to another is avoided.  
Scoop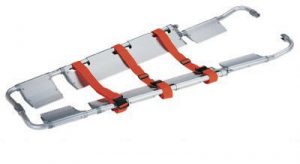 This type of emergency stretcher is normally made from metal and is used on a patient with a possible spine injury. It ensures that the patient will be safely loaded to the stretcher without lifting and moving the body. 
A scoop stretcher is a scissor-like object that opens to scoop the patient from the opposite sides of the body. It is like using two playing cards to scoop an object from the ground.  
Spine board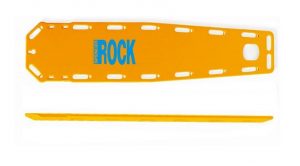 Spine boards are also used to secure the body of a patient with spine or limb injury. It firmly holds the patient's body in an aligned position keeping the patient from further injuries. Spine boards are the most commonly used stretcher to transfer a patient to an ambulance stretcher. Spine boards are a plain slim type of stretcher which are normally made from plastic, wood, or other sturdy materials that are not too heavy to lift. It also has handle holes around it to allow multiple responders to lift the board.