During emergencies, time is the most crucial factor that affects survival. Another challenging factor that emergency responders have to deal alongside that is where the emergency took place, for an instance, a high-rise building – an emergency setting where up to hundreds of people can get trapped and injured in just a couple of minutes.
Therefore, to accelerate the time of evacuating individuals, different techniques are being created from around the world and manufacturers continuously seek for ways to solve difficult emergency situations that hinder safe evacuation.
Here are some of the unconventional equipment used to evacuate people in high-rise buildings.
Metal Slide
Stainless steel slides are being used at high-rise buildings in different countries. Some slides are fixed outside of the building, but some are installed inside the building like the one in China where the slide can be attached on the wall and can be used in a push of a button. The slide was tested to evacuate a person out of a five-storey building in only 14 seconds. These metal slides or tubes have existed in the 1800's as well as in 1948 to evacuate students and hospital staff out of a premise in just minutes. 
However, since the slides are made from metal, it could heat up during a fire emergency and injure the people inside the tube.
---
Vertical Chute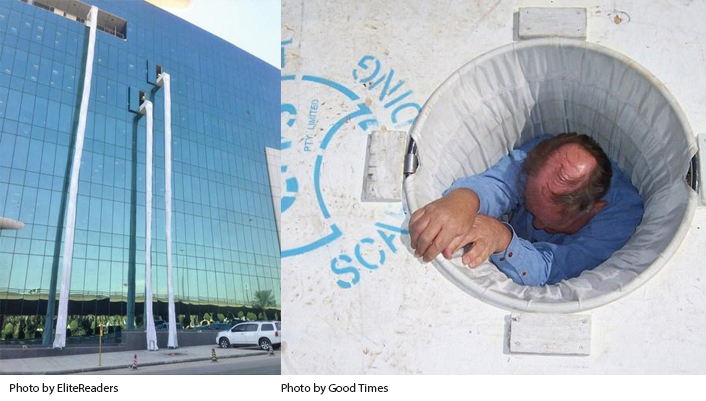 Another innovation is the non-metal vertical escape chute, specifically made for fire escapes because it is a material that is fire retardant and is tough on heat. These chutes hangs down from the external side of the building and can transport people at the ground level in just a few minutes without the feel of free-fall with its innovative internal layer that controls the person's speed. These chutes allows people to land safely on their feet.
This unconventional fire escape might look scary for most people but it is used in many countries and is still making its way to other parts of the world.
---
Evacuation Mat and Chairs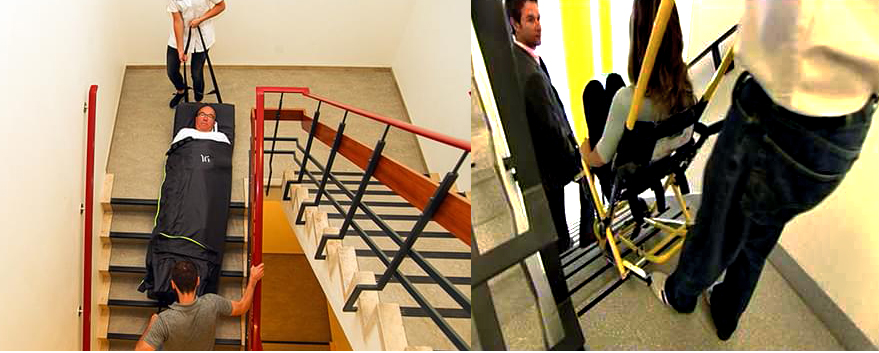 Emergency evacuation mats and chairs need no slide or chute to quickly glide a person to a steep or flat surface such as staircases to transport a person to a safe level and softly glide across the ground and down the stairs to transport a casualty in a safe level.
Though these types of emergency evacuation equipment may not be as fast as the previous ones, it is widely used in all countries for evacuation on staircases and flat surfaces because these are designed for people who have injuries and are mobility incapacitated. Stairchairs, mattresses, and mats allow a normal individual to choose the best method to quickly evacuate a casualty. For an instance, if the casualty is unconscious, it is best to use an evacuation mattress or sheet to easily drag the patient while laying down. On the other hand, for a casualty who is best to be put in a sitting position, a stairchair can be used. 
 For all your needs in evacuation and emergency preparedness, ARASCA is more than happy to be of help. Just email us at [email protected].
Sources: 
https://en.wikipedia.org/wiki/Escape_chute
https://www.dailymail.co.uk/news/article-2293392/Sharp-exit-The-high-rise-evacuation-slide-fifth-floor-building-14-seconds.html
https://www.thenationalnews.com/uae/high-rise-escape-chute-could-evacuate-dubai-s-tall-buildings-in-minutes-1.762633