Different levels of injuries call for different types of first aid treatment to avoid discomfort or death. In this guide, we will differentiate the two most common types of emergency response kits to give you an idea on which to look for when you encounter a case of injury.
Both trauma and first-aid kit are filled with actionable equipment – items that are used when an incident has already occurred – but differ in the following areas:
Level of Injury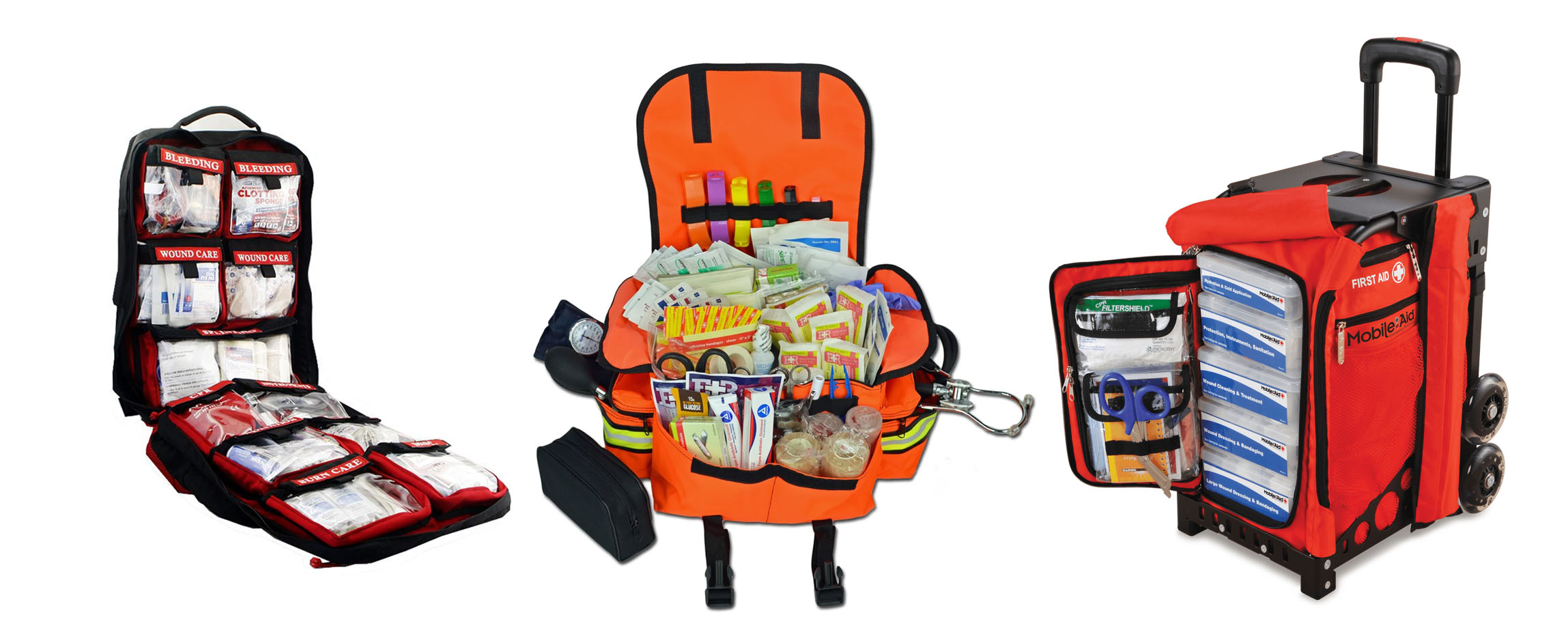 Trauma Kit
Trauma kit is designed to effectively treat traumatic or life-threatening injuries to prevent the condition from worsening and prolong life until professional help arrives.
Type of injuries a Trauma Kit should be able to handle are:
Severe bleeding

Deep cuts that need stitching

Extensive burns

Unconsciousness or paralysis

Breathing problems

Fractures

Eye injury

Head injury

Other serious injuries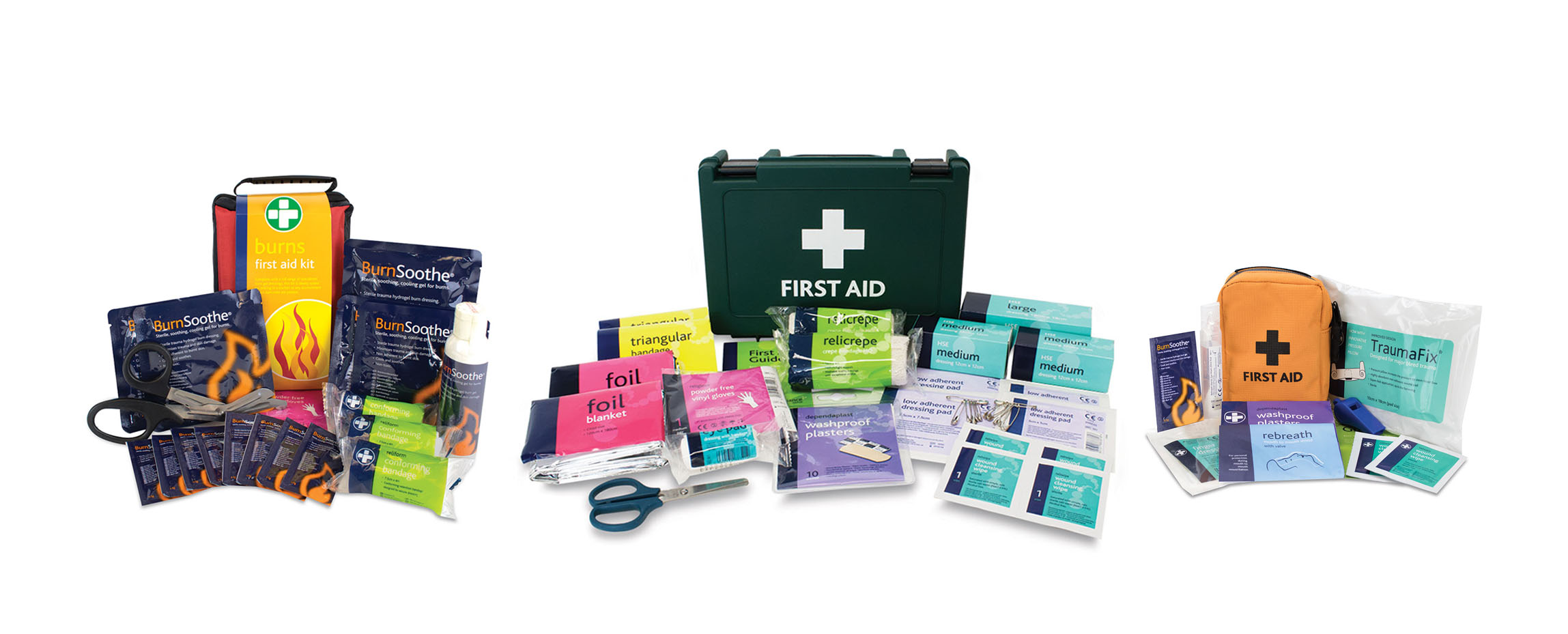 First Aid Kit
First aid kits are made to aid common non-life-threatening injuries that we may encounter on a day to day basis. Some First aid kits also include not only actionable equipment to minimize injury but also recovery equipment to promote healing.
 Type of injuries a First Aid Kit should be able to handle are:
Shallow cuts, scrapes, small wounds or skin damage

Minor burns

Insect sting

Sprain and strain

Bruises
Contents
There are many different providers of trauma and first aid kits, but most often, these providers follow the standard of the USA's Occupational Safety and Health Administration (OSHA) and The American National Standard Institute (ANSI) to make sure that each kit can handle the current emergency medical needs of the public especially the employees.
An ideal trauma kit should contain supplies that are able to treat multiple serious and life-threatening injuries or multiple patients.
All first aid kit contents plus:

Flexible evacuation stretcher

Protective wear (gown, face shield, face mask, eye shield)

Heat-reflective protective blanket/emergency blankets

Splints

Forceps and scissors

Flashlight and batteries

Sunblock SPF 30+

Insect repellant

Instant towels

Bio-hazard bag

Aspirin tablets

Sting & Bite swab

Eyewash sterile and eye patch

Vinyl Gloves (pairs)

Burn gel and dressing

Triple antibiotic packs

Assortment of wound dressings and pads

PVP iodine swabs

Cotton tip applicator

Assortments of medical adhesives and wound closure strip

Assortment of bandages and gauze

Emergency water pouches

Cold/ice pack unit

Tourniquet
Some of the best examples of trauma kits that are aligned with the OSHA and ANSI standards are the LifeSecure's Mobile Aid Quick-Response Trauma FAK, Reflex High-Visibility Trauma First Aid Backpack, and the  Easy-Roll Emergency Incident Response Station that can handle a wide range of major injuries and has a smart, compact, and lightweight design that makes an emergency response quicker and even more effective.
A standard workplace First Aid Kit should contain the following items based on the ANSI 2015 standards. The quantity may vary depending on the number of employees it is designated to handle.
Adhesive Bandage

Medical/Surgical Adhesive Tape

Triple Antibiotic Ointment

Antiseptic

Breathing Barrier

Burn Dressing

Cold/Ice Pack

Eye Wash

Eye Covering

First Aid Guide

Hand Sanitizer

Medical Exam Gloves

Roller Bandage

Scissors

Sterile Pad

Trauma Pad

Triangular Bandage
However, since there are many variants of first aid kits, the contents may change based on the number of people, types of hazards in its location, as well as the number of people the location has.
Know more about the standards of a first aid kit and how each of the listed items works.
Training
A Trauma kit requires a trained individual/responder to give a proper assistance to the patient since the use of items in this kit are not easy to understand as most items in the first aid kit. However, a first aid kit also requires a trained individual even if most of its basic items are easy to familiarize with. This is because injuries cannot be treated carelessly even if it is just minor and also, not all first aid kits have the same contents because it may be specialized depending on the hazards in a certain location and only knowledgeable individuals can understand its proper use.
Physical Appearance
Trauma kits are designed to fit extremely intense situations where the person using the kit – one giving assistance to the patient – will easily see and access the tools without added confusion that could cause increased anxiety. Therefore, Trauma kits are arranged in a very detailed and organized manner provided with clear instructions and labels. It mostly comes in backpacks, large-wheeled cases, and regular carry bags so respondents can carry it easily in the location of the incident. The size of the kit is usually larger since the ideal trauma kit has a lot of items in it. Flags, reflectorized materials, and distinct colors are some of the characteristics of this kit for it to be highly noticeable and can be seen quickly so that time is not wasted.
Meanwhile, a first aid kit might consist of smaller items but the size may vary depending on how big the number of people it is intended to handle. There are first aid kits that are specially made for travel, kitchen, vehicle, workplace, school, swimming pools, etc. since first aid kits are somehow customizable. It may come in small to medium fabric pouch or small to large hard plastic or metal case. Though first aid kits come in a variety of looks and sizes, it is mostly seen in an easily noticeable location like the trauma kit.
Trauma and first aid kits are equally important and both of them are crucial at any given place – your home, in the office, at shopping malls, wherever – because injuries happen anytime and anywhere. Having them around can make a huge difference and most of all, they can save lives.
Source:
https://tntfirstaid.com/2018/07/23/trauma-kit-vs-first-aid-kit/
https://scorpionsurvival.com/trauma-first-aid-kit-vs-first-aid-kit/