Poor diet, obesity, and smoking are some of the main causes of life-threatening diseases. The good news is, a person's lifestyle can be controlled and changed which will give you not only a life with lesser risk of heart disease, diabetes, and cancer but also have an additional 7-10 years to live! 
Here are the five long-term habits that you need to adopt 
Based on a study where 110,000 people were assessed, adopting these 5 mentioned lifestyle habits lead to 10 and 7 years of extra life without heart disease, stroke, type 2 diabetes, and cancer to women and men, respectively. 
1.

Eating healthy 
Eliminate trans fat and add more fiber 
The global ban on trans fat is one of the 2019-2013 main goals of the World Health Organization (WHO) because it leads to more than 500,000 cardiovascular deaths every year. An amount of 2 grams of trans fat per day in a 2,000-calorie diet and 30 grams of fiber will prevent bad cholesterol, blood clotting, and blood vessel damage which is very good for your heart health and lessens the risk of stroke and type 2 diabetes. 
Make sure to read your food labels to monitor your trans-fat intake.  
The Healthy Eating Plate  
Based on a study Harvard School of Public Health, having a portion of different kinds of healthy foods in every meal lessens the risk of heart disease, some forms of cancer, hypertension, and osteoporosis.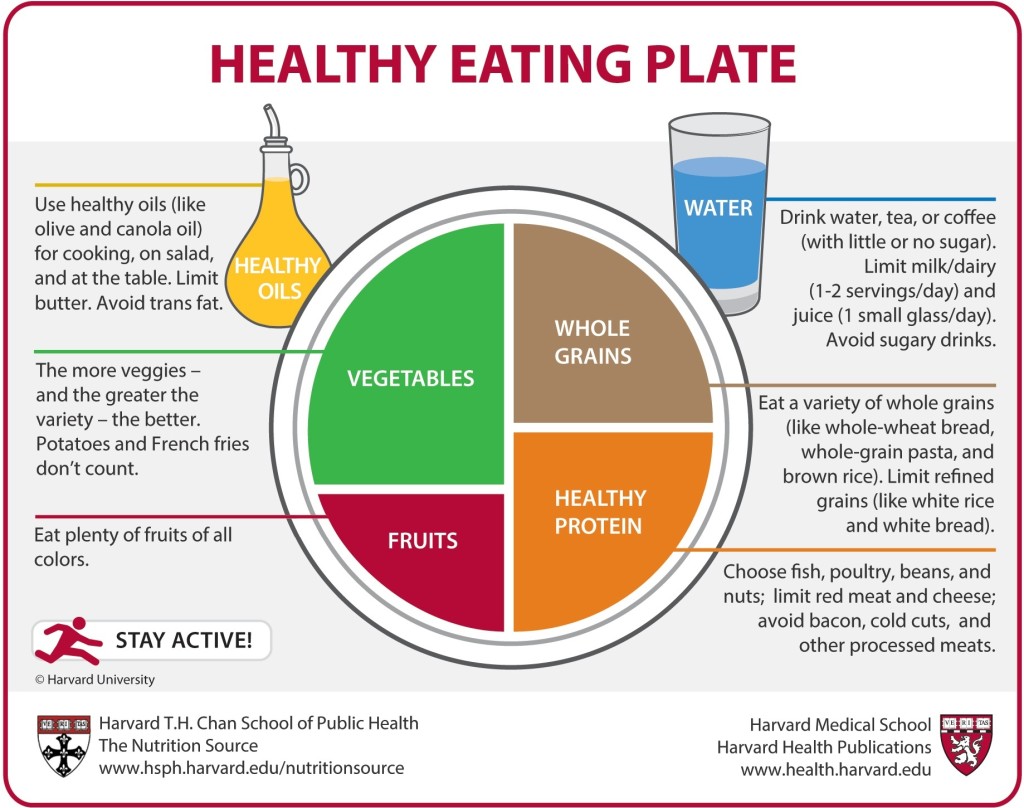 2. Stop Smoking 
Coronary heart disease is one of the main causes of death globally. Quitting smoking does not only reduce the risk of heart attack by 50% on the first year of practice, but also the risk of having lung cancer in which 70% of cases had been accounted to smoking.  
3. Do a 30-minute moderate to heavy exercise daily 
Keeping your body active does not only reduce tons of health risks and make your body strong, but it is also a good way to reduce body fat, stress, and boost your mood and energy level. Achieving 150 minutes of moderate-intensity aerobic activity every week – 30 minutes daily for 5 days – is a great way to make your heart and body strong and healthy.    
4. Having a healthy body mass index  
BMI is a way to measure if your body has a balanced and healthy amount of fat. People who have a BMI over 30 have a high chance of developing life-threatening diseases. Maintaining a BMI of 18.5 to 24.9 in an adult is a good indication that you have a normal or healthy weight. Staying active and eating less fat and sugar is the best way to achieve this.  
5. Moderate drinking of alcohol  
Based on the United Kingdom National Health Service (NHS), one unit of alcohol is equals to 10ml or 8g of pure alcohol and a daily moderation of 2 units of alcohol for women and 4 for men or a maximum of 14 units per week is what the NHS recommends keeping a balanced intake of alcohol for adults to prevent harmful effects on health, such as pancreatitis; diabetes; heart disease; liver, breast, and oral cancer.  
Your health is your responsibility. Living a long life needs a high level of discipline and control. Though these habits may affect each person differently, one thing is for sure, it will not harm you but instead, it will make your life more productive and happier.  
Source: 
https://gulfnews.com/uae/health/what-is-wrong-with-trans-fat-when-and-how-will-uae-ban-trans-fat-1.64086997 
https://www.nhs.uk/live-well/healthy-body/ 
https://www.nhs.uk/news/lifestyle-and-exercise/healthy-habits-add-10-disease-free-years-your-life-study-reveals/ 
https://www.health.harvard.edu/staying-healthy/healthy-eating-plate