COVID19 has thought people many things – value your health, build a strong connection with the ones you love, follow your local authorities, be precautious, become more resilient, plan your budget well, and a lot more.
That is why the pandemic is the best example why you need to be prepared even before an emergency and any crisis happen. Taking precautionary measures and having an emergency preparedness plan would not only save you stress but also allow you to respond to you and your family's needs ahead of time; preventing unwanted damage and even life.
BEFORE THE EMERGENCY
Here is a list of the essential things you need to organize and prepare so you have the advantage when common emergencies and crises strike.
---
FOOD
Stock canned goods, and other ready-to-eat food that are not easy to perish such as dried fruits, pickled vegetables, powdered milk, etc.

Stock gallons of water most especially if you are living in a hot climate or if summer is coming.

Make sure to always check the expiration dates of these items and replace them immediately once the quantity is low or the items got expired.
---
MEDICINE
Store your family and pets medicines somewhere that is not having an improper temperature and is high so they will not easily be soaked during flooding. Follow the required storage procedures of your medicines.

Refill your stock as early as far as your local pharmacy regulations allow.

Make sure to dispose of expired medicines properly by putting the medicines in a sealed container and throw them in the trash bin or if it has a bottle or container already, better use a marker to scratch out the personal information and label it "DO NOT TAKE / EXPIRED" to prevent wrong medicine intake.

Ensure to take flu shots and other vaccines that are needed to strengthen the immune system. 
---

FIRST AID KIT
Get a

first aid kit for your home

and place it in a location that is easy to access.

Ensure that your first aid kits are having the proper amount of supplies that can accommodate your headcount.

Equip your home with grab-and-go emergency kits like

these 3-day emergency kits.

Ensure to have a

chemical ice pack

in your kit so you can aid minor injuries and you can also use it to chill medicines.

First aid and emergency supplies have expiration too; make sure to change them if needed.
---
PAPERWORK
In one hard case folder, collect the following:
Copy of insurance and medical records

Copy of birth certificates and other vital documents

Personal identifications such as passport, driver's license, and other I.Ds

Cash and coins
Remember, pack your emergency supplies in a portable and durable container/s, such as those with wheels like luggage or an easy-to-carry case, and place them where you can easily grab them. You can also use glow-in-the-dark first aid boxes and emergency wall signages so you can easily identify them during power shortages.
---
POWER SOURCE
For vehicles:
Ensured to have a car charger, road map, jumper cable.

Do not let your tank become less half-filled.
For medical devices:
Ask your doctor if your medical device, such as pumps, monitor, etc., are compatible with batteries or a generator.
For appliances and gadgets:
Always keep your power bank fully charged.

Store manual alternatives so that when electrically-dependent equipment are not usable, you have something to use.

Keep distilled ice in your freezer so when the power is out, you can keep your food cold for some time while the melted ice can then be consumed as drinking water.
---

LIFE-SAVING SKILLS
Learn CPR 

and swimming skills

Learn how to read medication prescriptions, food labels so you can identify safe foods for those with allergy

Learn how to use the

most common first aid tools

Enroll the whole family in a first aid class
---

EVACUATION EQUIPMENT
Make sure to place your evacuation equipment like the evacuation stair chair or evacuation mattress near staircases so you can quickly transport an injured or disabled individual through stairs – the only evacuation route most buildings have – quickly. 
---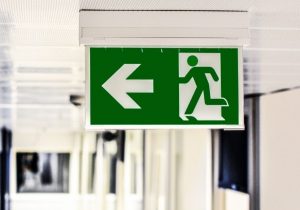 MAP OR EXIT ROUTE
The point of safety is where you'd want to go as quick as possible. Being deprived of information can hinder you from achieving this. Hence, you have to know the following:
Know your 'building area of refuge' (BAR). 

Be aware of all the exit points during an emergency. It is better to have 2 exit options rather than just one. 

Also be aware of of the location of all essential emergency evacuation equipment in your premise so you can quickly treat or rescue an individual in need.
DURING THE EMERGENCY
Here are the 2 key emergency procedures to keep you and your family safe.
---
SHELTER-IN-PLACE
This procedure is done by ensuring that the people in outdoors are safe from a hazardous/biological material, severe weather, or other emergency outside. To Shelter-in-Place means to go inside a shelter – could be your house, classroom, or office – and make sure all windows and doors are closed to keep you from getting exposed. 
When you do this, make sure that you call for medical help or the police and report your location so you can get a proper assistance in case you need to evacuate the area or if there is a person injured. 
---

EVACUATE

 
This procedure is done to take an individual outside of the building or to the point of safety. Evacuation is commonly needed for emergencies such as fire, explosion or earthquake. When evacuating, make sure to do the following:
Get out of the building immediately and go to a safe location like the building area of refuge (BAR) or an open area. 

Do the same when you are in your vehicle – try to escape quickly.

Help notify other people inside the building by shouting as loud as you could. 

If a person is injured and in need of assistance, use

these techniques

to safely and quickly evacuate an injured or disabled individual. 

Use the stairs and NEVER use the elevator.

Call the emergency hotline once you reached the safe location. 

Stay away from buildings, ceilings, trees, electricity and telecommunication posts.

During earthquakes, stay away from seashores.

Do not re-enter the building until advised by emergency personnel.
---
Call the UAE emergency hotlines:
Preparing for all these may take a little bit of work and money but being able to know what to do and be ready for what may come can save you more than you expect. For all your needs in first aid kits and emergency evacuation equipment, we are more than happy to help. Just contact us at [email protected].
Source: 
https://www.cdc.gov/prepyourhealth/takeaction/index.htm
https://www.ncema.gov.ae/en/media-center/awareness-messages/earthquakes.aspx
Emergency Procedures