CPR manikins come in different brands with different materials. Each has its own guidelines on cleaning procedures to keep proper hygiene as well as not to damage the product. Even though there is only a slight probability of cross-contamination from CPR manikins because most trainers now require face shields/masks upon usage, it is still best to clean it before and after a training session to secure the safety of the students with or without its protective equipment. It is also recommended to use manikins with removable face skins for hygienic purposes.
What you'll need
A mixture of 60 ml cup of non-scented liquid chlorine bleach per 5 L of water
Adhesive Remover Spray

Soap and water / Soap pads

Q-tips

Gloves

Gauze Pads
During Class
Implement this regular cleaning routine every time a student finishes using a manikin.
This will prevent transmission to the next user.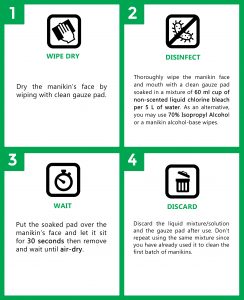 After Class
After a day of training, you want to make sure that you won't let the bacteria sit on your manikins overnight.
Important reminders:
Use Q-tips in cleaning the tiny details of the manikin most especially in respiratory passages to make sure these areas have no bacteria when students breathe on it.
Use gloves when you disinfect the manikin with a bleach solution so as not to damage your skin.
Check out our variants of easy-to-clean CPR manikins from great brands:
Brayden CPR Manikin
Advanced Model [ Adult | Junior | Baby ]
Vimetesca CPR Manikin
NEW! Practi-Man PLUS [ contact us for inquiry, [email protected] ]
Practi-Man Advanced [ Single | with Transport Bag | 4 Units with Transport Bag ]
Practi-Baby with Carrying Case
Simulaids CPR Manikin
Adult, Child, And Newborn Manikin Package 
See also our CPR manikin paraphernalia:
Manikin Lungs [ Practi-Baby | Practi-Man | Resusci Baby ]
Resuscitation Pocket Face Mask [ Spencer | Laerdal | Reliance Med ]
Manikin Face Shields [ Reliance Med | Vimetesca ]
Manikin Skin [ Practi-Man Chest | Practi-Man Face ]
Philips AED Trainers [ FR2 | FR3 | HS1 ]
Philips AED Training Pads [ FRx | FR2 Infant-Child | FR3 Training Pack | HS1 Child | HS1 Adult ]
See more at eshop.arascagroup.com
Source:
https://www.redcross.ca/crc/documents/What-We-Do/First-Aid-and-CPR/Training-Partners/preventing_disease_transmission.pdf
Blog Image Banner Source: Safety First Aid UK