An AED (Automated External Defibrillator) is a light portable device that is used to deliver a quick electric shock to a person's chest through the heart during a sudden cardiac arrest to help the heart restore its normal rhythm.  
Defibrillation
Is the treatment given to the heart that is suffering from an irregular heart rhythm that is mostly caused by ventricular fibrillation – the rapid or unsynchronized beating of the heart that is mostly the cause for a sudden cardiac arrest.     
Why is AED important?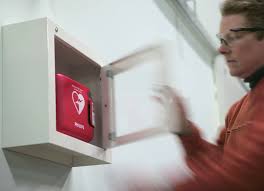 AEDs can be carried as well as placed anywhere; mostly in places that can be easily seen by the public so that when a SCA takes place, a responder can quickly deliver a shock because every minute a heartbeat is not restored, the survival rate of the victim quickly drops by 7 to 10 percent that means death in just a few minutes.
How does an AED work?
With the use of AED pads – thin metallic sheet attached into a transparent silicone-like adhesive that is stuck on to the patient's bare skin – the electric shock is able to travel from the AED device through the patient's heart. 
An AED is normally administered together with hands-only CPR to effectively save a life. Without an AED on-site, a hands–only CPR can be done, but the survival rate is much lower.  
And since an AED is designed to aid life-threatening situations – where every minute counts – only a few simple steps are needed to operate the device.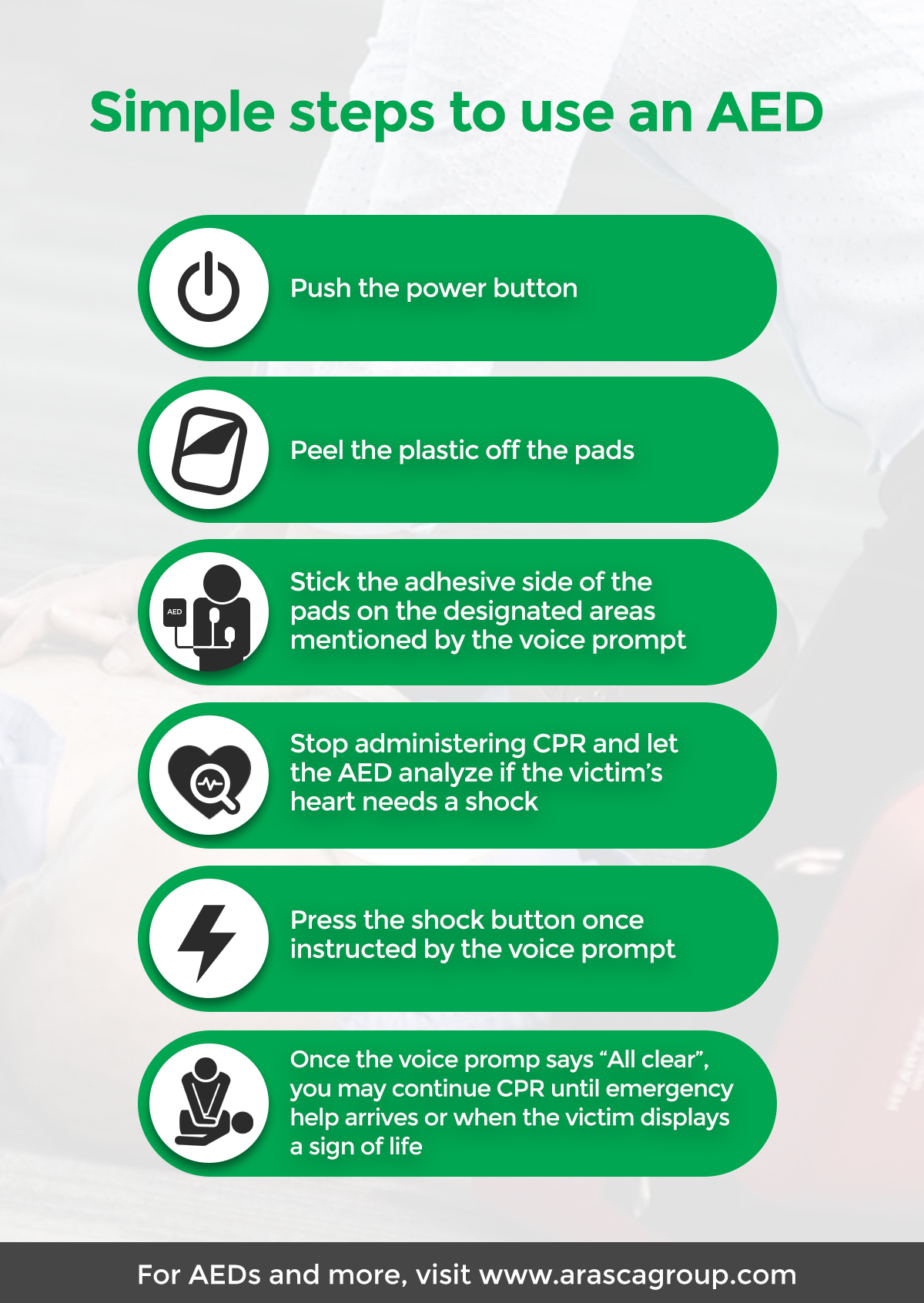 Here is a real-life demonstration of how an AED works. 
Who can use an AED?
Since sudden cardiac arrest (SCA) is the leading cause of death in the US alone, every minute is crucial when rescue is not provided. Therefore, AEDs were built with audible voice prompts that are very easy to understand so the general public (lay rescuers) can use it immediately even without proper training so that time is not wasted. However, AED and CPR training being offered by different training facilities is recommended to anyone most especially to the business staff so that in times of an emergency, bystanders will be confident and not be reluctant to rescue someone that is showing the signs of a sudden cardiac arrest.  
Where are AEDs found?
AEDs should be placed in all first-response vehicles/ambulance as well as any areas that are easy to access and be seen by the general public, such as building corridors, near the elevator, reception, public vehicles, metro stations, restaurants, hotels, events venue, offices, malls, grocery stores, etc. An AED is also essential to be placed at home or at places where people at risk of sudden cardiac arrest are located. There are also AED signages placed near an AED so anyone can easily spot the device in an emergency.  
Do AEDs Fail?
AEDs are rarely to fail, but when it does, the following reasons may have occurred:
1. Battery  
Since AEDs will only be used once an SCA has occurred, sometimes they are left to wear in their designated spot and tends to lack regular monitoring or maintenance. This can cause battery failure, which is 23.2% of total reported AED failures, thus, when the time has come to use the device, it's the battery can no longer provide power. However, there are AEDs like the Philips HeartStart FRx that has a long battery life which can administer a minimum of 200 shocks or 4 hours of operating time at 77° F (25° C). 
2. Old Pads and Connectors 
AED accessories such as its pads and connectors are important to smoothly deliver the electric shock to the heart. Failures caused by accessories account for 23.7% of the total reported AED failures. As for the Philips Heartstart FRx, it has Smart Pads that last long (2 years shelf life) and can be used for both child and adult that makes the Philips FRx Smart Pads apart from others.  
These failures may also be avoided with a manual regular AED check which is mostly provided by your local AED distributor/supplier to make sure that any repairs and accessory replacements are done when needed. For AED products and services in the United Arab Emirates (UAE), ARASCA Medical Trading is a trusted provider you can count on.  
Moreover, AEDs nowadays, specifically the Philips HeartStart FRx, has new ways to make sure this problem is solved without requiring regular manual checkups – adding the SmartLink monitoring solution where the AED sends an automatic daily self-test report to its provider if there is a battery, pads, or other accessories that need replacement, or any internal issues that may affect its performance so immediate action can be done to avoid any possibility of failure. This advanced feature removes manual checkups that saves a huge amount of time and money to the owner. Click here to know more about the SmartLink monitoring solution.